AVI recorder, capturing an image from any window, recording under condition of a modification of an image.


Plus - write time of a frame mapped in titles of a videoclip. Using whenever possible DDRAW hardware.
Analyzer Recording is a shareware program.
You may use this program without any limitations 30 days.
After that trial period you will need to register your copy.
Load Analyzer Recording if it is not already running.
Note: you may only have one copy of Analyzer Recording running at any one time.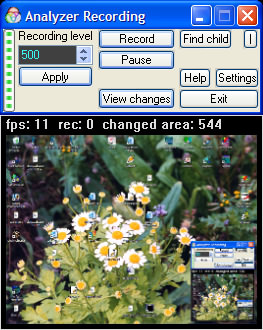 Here you can set minimum square of modifications, as a condition for an record.

Press Record for start, overstrike - stop.

By default Analyzer Recording automatically searches foreground window. "Find child" - for search of the child window, "|" - fixing of the window for search it of child windows.

Status bar.

Settings Analyzer Recording.

"Capture" - choice of a rectangle on the screen monitor for record.
"View" - Size of the window, the large size can reduce speed.
"Priority" - Priority, select the best variant by an experimental way.
"Analysis" - Algorithms of image analysis.
"Record" - Choice of a size, codec (we recommend to use DivX Codec), velocity of playing.
"Output Directory" - Folder for saved video.
Possible problems:
Some programs use Overlay whenever possible, for example - Windows Media Player.
It's impossible to grab images of this type.
You can decide this problem, having started in the beginning one from our programs using overlay(ClockWallpaper, Magical Glass) and to block this possibility or reduce hardware acceleration in tunings Windows.
- Windows NT, 95/98/Me, 2000, XP, 2003 operating system
- Intel Pentium Processor or 100% compatible.
- Video Card DirectDraw compatible, 16, 24 or 32 bit color.
Run Uninstall from Analyzer Recording group.
If you've got a problem, please contact FreeStone Group support.
Before contacting Technical Support, please obtain and record the following information:
- Product name (or edition), version, or service pack.
- Name.
- Your system configuration: operating system, amount of RAM, CPU.
- The details of the problem; settings, error messages, stack dumps, and the contents of any diagnostic windows.
- If the problem is repeatable, the details of how to create the problem.
---
---